ボトルの姿をしたコードレスランプBottledで、
新しい灯りの体験を。

まるでボトルのような姿をしたBottledは、コードレスでエモーショナルな灯りを実現したランプ。
1つ1つ手作業で作られる重厚なガラスシェードから、柔らかさと艶やかさを併せ持つ透明感のある光を灯します。
シェードは落としてもすぐに破損しないよう、最も薄い部分でも5㎜厚。ムラのない光を作るため、ガラス成形後は継ぎ目を丁寧に手作業で消し、内側には特殊な塗装を施しています。滑り止めのゴム脚は摩耗して剥がれてしまわないよう、アルミベースをくり抜き、内側からはめ込んで加工。
灯りには、場を明るくするだけではなく空間の雰囲気を創り、時には音楽のように気分を高めたりリラックスさせる力があります。
そのために美しいフォルムと高い機能性をロジカルに導き出し、自由に使いやすくしたのがBottledです。
どこにでも一緒に連れていく上質な灯り。Bottledで新しい灯りの体験を。
・matte silverは、スタイリッシュで、ガラスの透明感を引き立たせるベースが特徴。
・透明感溢れる艶やかなガラスシェードは、強度を兼ね備え安全性にも配慮しています。

・ほんのりと静かに灯る最小光から、環境に合わせた存在感溢れる4段階の調光。
・無段階調光機能も可能。お気に入りの明るさを記憶させるメモリー機能も搭載。
・充電台に乗せたままの点灯が可能です。
・独自に開発した高効率のLEDモジュールは、5時間の充電で最大100時間点灯。
・バスルームやアウトドアでも、水を気にせず使用できる防塵・防水機能。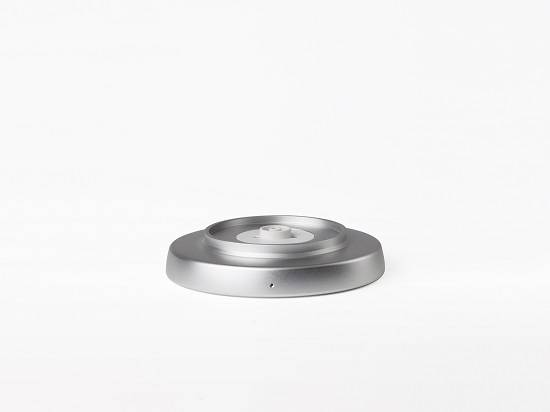 専用充電台
本体と同じカラー(マットシルバー)の充電台になります。
(充電台の別売はございません)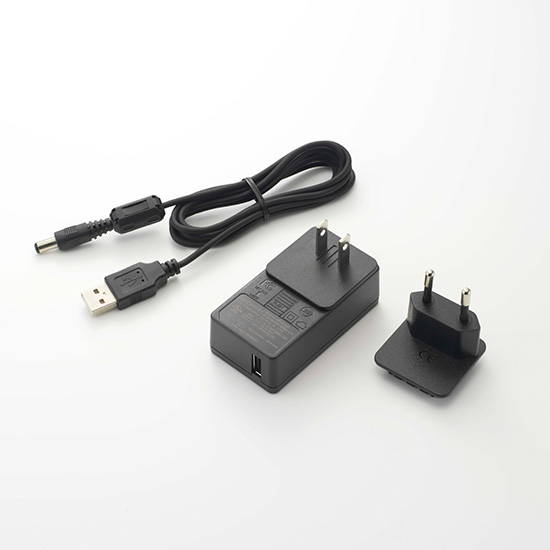 USB ACアダプター(AMB-AC02)
充電用USB接続ケーブル
| | |
| --- | --- |
| | |
| | シェード : 特殊塗装ガラス、ベース : アルミニウム |
| | |
| | |
| | |
| | |
| | |
| | LOW:100時間 → MID:24時間 → HIGH:8時間 → EX-HIGH:4時間 |
| | |
| | |
| | バスルームや屋外でも使用できる防水IPX6相当 ※本体のみ  |
| | 専用充電台(ベース色と同色)、 ACアダプター、充電用USB接続ケーブル  |
Bottled cordless lamp in the form of a bottle,
a new lighting experience with Bottled.
Looking like a bottle, Bottled is a cordless lamp that provides emotional light.
The heavy glass shade is handcrafted one by one and emits a transparent light that is both soft and lustrous.
The shade is 5 mm thick at its thinnest part to prevent immediate damage even if dropped. After the glass is formed, the seams are carefully removed by hand and a special coating is applied to the inside of the glass in order to create an even light. The non-slip rubber feet are made by hollowing out the aluminum base and inserting them from the inside to prevent them from wearing out and peeling off.
Lights not only brighten up a place, but also create an atmosphere in a space, and sometimes, like music, they have the power to lift our spirits and relax us.
To achieve this, we have logically derived a beautiful form and high functionality, and made it easy to use and free.
With Bottled, you can experience a new kind of light, a quality light that you can take with you wherever you go.
・The glossy glass shade with a sense of transparency is strong and safe.
・Four levels of dimming, from a minimum of quiet light to a full presence to match the environment.
・Stepless dimming function is also available. It also has a memory function to store your favorite brightness.
・The light can be turned on while it is on the charging stand.
・High-efficiency LED module developed independently can light up for up to 100 hours on a 5-hour charge.
・Dust and water resistance for use in bathrooms and outdoors without worrying about water.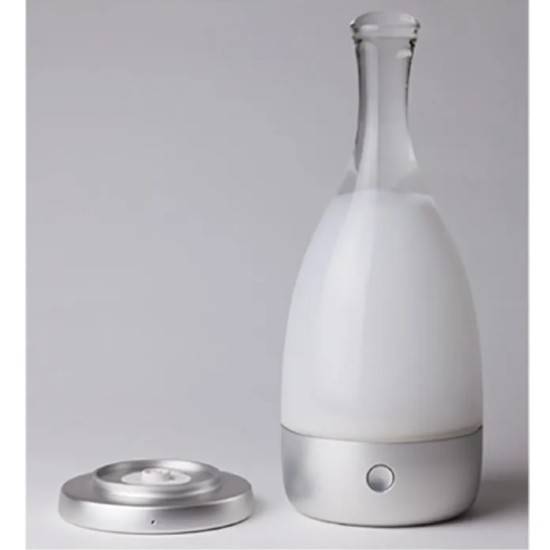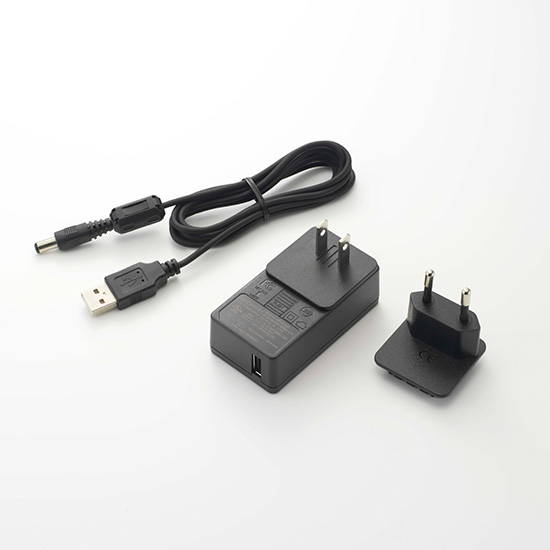 USB AC adapter (AMB-AC02)
USB connection cable for charging
| | |
| --- | --- |
| | |
| | Shade: Specially coated glass, Base: Aluminum |
| | [Height] approx. 250mm [Outer diameter] approx. 100mm |
| | |
| | |
| | |
| | 4 levels (stepless dimming is also possible) |
| | LOW: 100 hours → MID: 24 hours → HIGH: 8 hours → EX-HIGH: 4 hours |
| | |
| | Rechargeable lithium-ion battery 5200mA/3.7V |
| | Equivalent to waterproof IPX6 for use in bathrooms and outdoors *Main unit only  |
| | Dedicated charging stand (same color as base), AC adapter, USB connection cable for charging  |